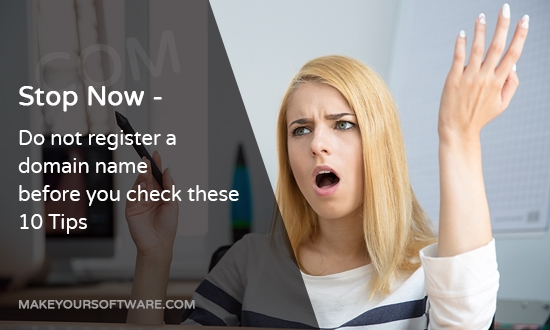 We had received a call this morning from a customer in Dallas,Tx . He was planning to register a domain name. He just wanted to do it at any cost. It was really hard for me stop him & ask him to check our private checklist we had developed with our experience.
When it comes to starting online internet business website or e-commerce website, first thing that comes into mind is domain name or dot com you would like to register. some people do not give a thought while registering a domain name. Most people are inclined towards one particular point making domain name fragile for your business.
Online business are very different when it comes to selecting name for the business.Selecting a domain name is life line of the internet business as it is brand name , It is responsible for the SEO , It is responsible for recall value.So selecting domain name is important. Here is our internal checklist we use while registering the domain name. Domain name has massive impact when it comes to influence in click thru rates (CTR), Search Engine Traffic, Social Traffic, Referral Traffic & Type in Traffic.
MakeYourSoftware's
Top 10 + Tips For  Domain Name Registration
This checklist has to be used with some business sense & not be followed blindly.
1 – Keep website/domain brand names small
To get a domain name that is small is rare these days, but new TLDs(.shop,.biz) have come up so you can get a small name as well. But again things have to be sensible.Classic example is of (Google) a name that has no meaning, but is small.This kind of domain name can be marketing challenge unless you have strategy to go after name & establish it business or consumers you are looking to get in touch with.
2 – Having a domain name that is easy to remember
It make a sense to have a domain name that has high recall value. Our own domain name (MakeYourSoftware) has high recall value with the customer, they remember it very well. So a name that is easy to remember does pays very well. Golden rules is to have domain name that have  great pronounceability & high memorability.
3 – Keep your service/product embedded in domain name
Having a product name or location in the domain is big plus. As google gives advantage to those domains with proper keyword & location in them. These are the keyword domains. So if you have strategy you can work around with it. If you want to target particular market then it is good idea to take exact product name. You can embed location as well if that benefits you while selling your product or service
4 – Prefer .com (We love it)
Well we already told you there are different TLDs available & now we are favoring ".com" that has been our personal favour, we have discovered that customers love .com , that are first thing they try. It is default key in mobile keyboards at times.So yes we give preference to it.
5 – Country-specific TLDs are next big thing (eg: co.uk or .in) 
Our second preference would be to go for country specific domain name like ".us" for American business or ".uk" for United Kingdom business. This also has it own advantage the customer in the specific country recognise it faster. Certain country makes it trustworthy. Like for example ".au" can be acquired only if you have business registration with govt of Australia.
6 – Make sure other TLDs are not used by competitors
Most people are so confident if they find a name that is interesting they rush as if they had just hit a gold mine. Get your self a control & check other domain name tlds are not registered with competitors. Else you would be working on the domain name only to realize that your other tlds are being used by another business. So give a time to check the best names.
7 – Taking multiple domain name does not help
Lot of business like to register multiple .tlds for same name. Unless you are particular for particular name the case is different else it is insane as there 10+ tlds available where user can register those names.So unless you have real good brand name & deep pockets you can go ahead & buy the domain name.You can use it just to secure the brand name.
8 – What should you look when taking Domain Name Registrars
There are several big domain registrar that you can go with. Some interface are bulky & Some of them are just up-sellers one product after another, they make it so hard to register. Here are five points you need to look into if you are going to have reasonable big list of domain name registration. You can same time if you have efficient domain name registrar.
Their interface should be easy to use
Easy to change contact information
Easy to change DNS/Name Server
Look for the renewal cost
Look for currency exchange fluctuation cost if you are in different country
9 – 4 Things you should not ignore once you have registered the domain name
Make sure you do not let domain expire, It is bad signal for google rankings
Make sure you do not let domain expire, certain domain registrars may charge extra as much as $75 for re-registration
Register domain for multiple years, it is positive for google rankings
Keep contact information correct while you register the domain name. At time certain companies used for the verification. Further legally it is good to have correct information.
10 – What is cost & renewal of domain name
Most of the domain name cost between $10 to 100, some of them domain name do cost higher also, but they are few tlds. There are some auction companies where you can buy expired domains or premium domains. Well we never advise such a thing unless the domain name is real great brand name. Occasionally we had advised as well. But that is rare.
11 – Take care of Trademarks
When registering domain name make sure your domain name does not infringe trademarks. So avoid infringing existing trademarks or confusing with existing trademarks. In case if you are a bit more adventurous we recommend using the legal advise before you go for it.
BE Creative ! Go for it.
Further if you need help with domain hosting, website for the domain , domain marketing strategy do let us know we would be glad to help you. We help business world wide with they online business strategy. If you are looking to hire a programmer or looking for custom portal website crafted in PHP look here.