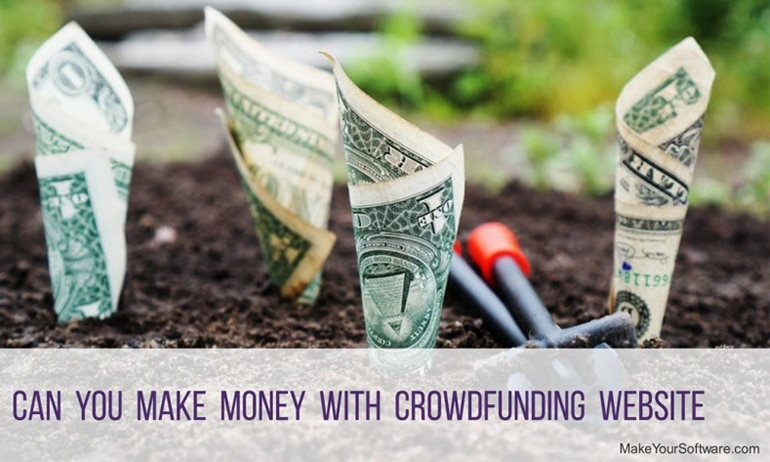 Can you earn money with the crowdfunding website is the questions that come up. Below we discuss the various business models of Crowdfunding website. Our script is available to be easily customized with these models.
We were discussing the crowdfunding project with a client from California. The question came up about the available business models in the Industry or fairly simple question how to make money if you are running the crowdfunding website. This is also one of the frequent questions that come across from most promoters who are looking to start a new platform.
There are some interesting models available but we would highly recommend settling on more custom model based on which niche you are targeting. We would highly recommend innovative model being explored over traditional ones as it gives an edge in marketing your platform.
Software Platform
We at MakeYourSoftware provide business with Open Source Crowdfunding Software Platform which has the ability to be customized developed on various models. Further our platform can be bespoke as well to the requirement.
Our software platform provides has an ability to charge the user based on flat fees or percent of the funds raised. It has the ability to put banners or put an editorial review or Integrate with any blogging platform easily. We would highly recommend live demo & discuss with us your requirements.
Freemium Platform Model
Some business start with this model, few startups & charity in last few years, has started based on this model. Freemium model helps business to have some traction & have faster growth, They pitch revenue from for enhancement selling of campaigns or banners or for an editorial review.
Freemium Fee model help website to collect data, based on data available this platform mature or gain insights.
what attracts more
what converts more
what is popular
Further with more & more people coming on their website they build a list of people based on their likes about the project & they further can market their future project to this list. Simple benefit for the freemium model is you grow faster but you need to capital investment to survive initial years before you explore your revenue model.
Platform Fees Model
Fees based model are very popular as well. This fees could be the percent of the amount raised & fixed listing fee or either one of them. The fees charged are from 2% to 20% based on various crowdfunding website big & small.
Some fees are handled in form flexible & inflexible funding based on project raising the funds with attached success fee as well.
Our software can easily be configured to work with various business models, if required it can be customized as well.
Equity Interest Model
This has recently come up in recent months whereby the platforms take an equity interest in the company just like any other investor making this complex for companies raising the funds. This is very long term model & require deep pockets of investment in the platform itself.
In recent years crowdfunding industry has evolved in various segments like charity, investment, real estate, creative, technology each segment has different challenges & each one need to be explored as they grow on various new models.
For the complete live demo of our white label crowdfunding software platform, Please fill in this form