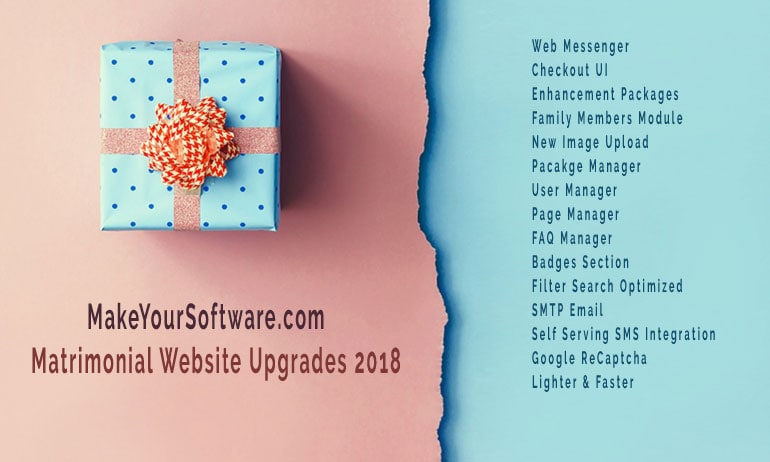 At MakeYourSoftware we understand the fast changing business dynamics. That is reason we had been constantly been upgrading the software with new features. We understand that offline marriage bureau are coming online. They need to remain updated with the latest in technology trends. Matrimonial script Team at MakeYourSoftware is committed to constant development of script. we recommend you to check below the new features we have added. Based on the requirement we are scraping few of the old features & integrating the new one.
Announcing New Features in MYS's Matrimonial Script
Matrimonial Membership : Package Manager & New Design , new page for enhancement
We believe in matrimonial script website,  package manager needs to be more dynamic with more options for the admin user, we have added more control in the admin. We have made it more intuitive with design with Pricing tables now has icons as well. Further checkout button has been enhanced. Further new icons has been added of trust, privacy & security so has to be make end user experience more customer friendly. Further we had added new enhancement packages. So more revenue earning opportunities for matrimonial website owners.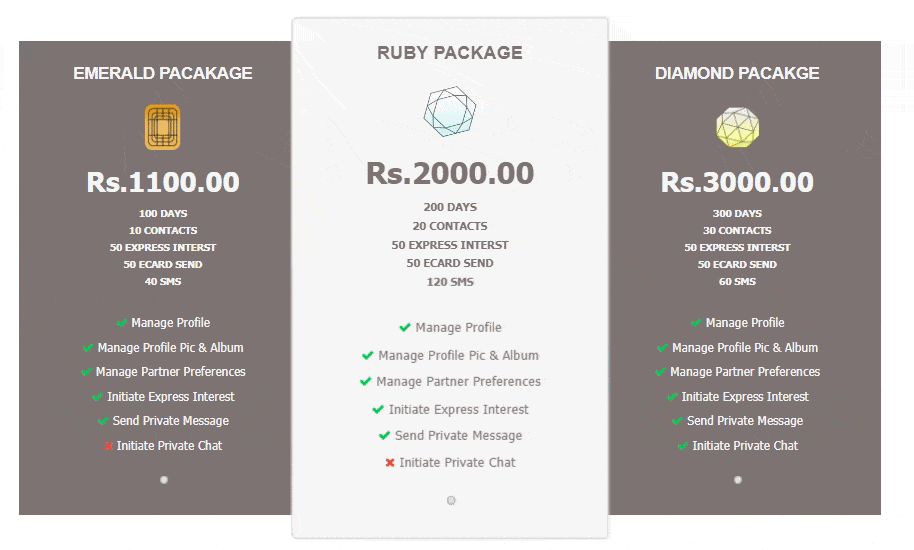 Matrimonial Profile : Family Members Module
We have added whole new module of family member in our matrimonial software. This module is available in update profile this enables user to add family members from both parental background. Making the profile more grounded towards Indian value system. Where marriages is more of union of family then simply two persons. We believe this feature will be used by traditional & modern marriage bureaus. Upgrade is visible in display profile page , PDF available in the admin.
Matrimonial Profile : Image Upload Page
Image upload page has been made more user friendly page guiding the users with image icons that what kind of image needs to uploaded for best response. These images are self explanatory. Other than that we have integrated new cropper eliminating the old pop-up based cropper.We are planning more such upgrades in near future making the application more user friendly for all kinds of users.

Matrimonial Checkout / GST / Invoice / PG : Three New Indian Payment Gateway
Indian digital space is fast growing so is the payment gateway space. We had CCAvenues, Paypal as payment gateway since many years.This year we  have added PAYTM, PAYUMONEY, INSTAMOJO giving more space to new marriage bureaus who are coming online. We believe this space is becoming competitive, pricing disruption in the space is over due. 4% transaction era needs to end soon.
Other than that we have added new checkout process making it more user friendly, the new checkout process is more user friendly in various terms, new icons have been added, GST Invoicing has been added for all those business that needs it.
Matrimonial Article : New Design
We believe content marketing is important tool for marriage bureau owners. So we have further enahnced the design of article section. We believe this is small step towards bigger foucs we have for the software making it a great for content marketing as that is way online marketing is progressing.
New Module : Enhancement Packages
Enhancement packages where already there but where isolated now they have been transferred to dedicated page with new UI & content they become more interesting & more visible for up-sell.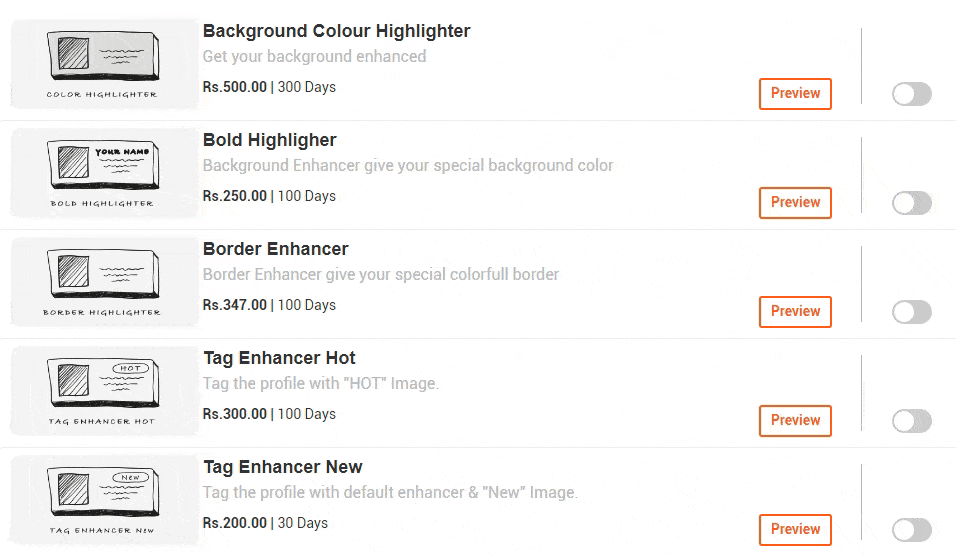 New Module & Design : New Popup Design & Pop-up Controlled from admin
New popup design , content fully controlled from the admin, ability to enable or disable it is making this more user friendly.
New Module : Page Manager
Our last quarter received decent support request from new users as explored to update the content on home page we announced video for this followed by change in UI for this particular page, we believe new UI is more friendly for the users.
Module Revamped : Web Messenger, Chat & Communication
It was long due & it has been followed by drastic change in UI & Functionality. Changes have come with the new interactive UI to chat, we believe longer messages have gone, people believe in shorter message, Even if sites on shared hosting can leave without auto-refresh, but the chat refresh needs to be more interactive, we have added a popup of upgrade making users more visible for upgrade. This means lot of previous version code has to move out for this.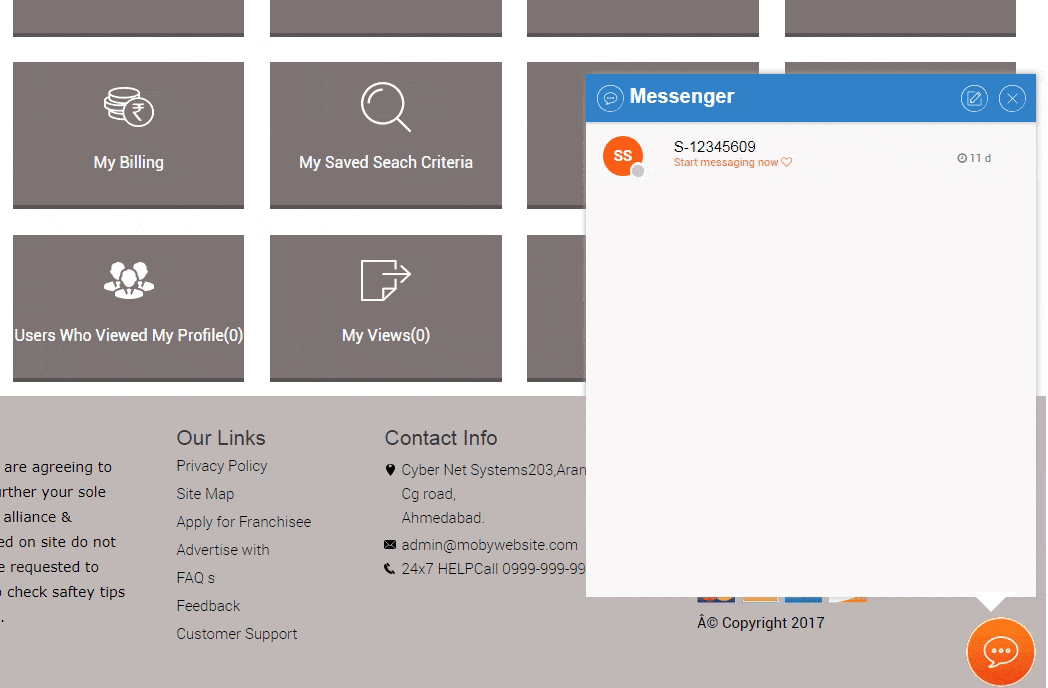 Module Revamped : Package Manager gets two new add-on of Express Interest & Ecards
Package manager from admin has been revamped for easier operations further we have added express interest & ecards as counts.
Module Revamped : User Manager
User manager is most used section by any marriage bureau, it is used for user support or marketing purpose, we have made it more user friendly to use. We have added three new pop-up so that user does not have to move from the UI, while talking to user you can discuss more stuff.
Dedicated Support Site
Other than this we had announced Hindi & English videos for matrimonial software last month making easy for various users to understand the features that are not available in demo due to security reasons.
We had been debating to integrate support or provide a dedicated support channel, we are coming out with the dedicated blog for support for all our products this will give an edge to the users. Also we plan to come out with small videos for various tasks. Already 5+ videos have been built & we plan to add more in 2018.
We are lighter & faster
Yes – we understand SEO & we know it. We had made the site lighter & faster. Lot of legacy code has move out, things would be faster. We have revisited entire code base to make it faster. We are constantly looking to optimize the site.
Badges
We have created new badges section, In this section user gets special badges based on the documents or links submitted, two sections are free & two are are paid option. It has admin section as well for approval.
FAQ Section
We have created FAQ section, Notice on home page has been carried out for compliance with Ministry of Women & Child Notification. All portions have been created from the admin.
Filter Search upgraded, Popular Search upgraded on home page footer has been upgraded. SMTP Email, ReCaptcha (Requires SSL), Self serving SMS Integration has been carried out
In short we have added 15+ modification in our matrimonial script, so it is now up to you to take advantage of these changes, these changes are in Beta & would be available for testing from the next week.
In Pipeline : What more is coming up for matrimony software
We have in pipe line of new UI set for dashboard & search result. We plan to make it more softer and cleaner. We hope to have lot of innovative changes through out the year
Guess what is coming next
We will shut-up!  here – few more changes are on the way. It will take some time but interesting application , game changing integrations are on the way. Now you have to ride a technological wave with us or leave behind in fast changing marriage bureau business. We recommend you to check the complete feature list of the software . All this is 100% open source . So get now your open source matrimonial script.