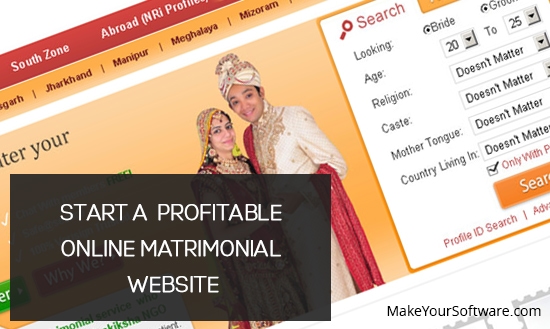 We find lot of business approaching us for starting online matrimonial website business. Business & startups are confused when drafting a business plan. With this post we have tried to work out complete guide to start matrimonial website business. Just like any business idea this idea requires some dedication & hard-work to make a successful business venture. We have divided the entire process in three different milestones.
1  – Matrimonial Market Scope
2 – Define Goal
3 – Set up profitable business venture – Online marriage bureau

Matrimonial Market Scope
Five reasons you should start matrimonial website
India provides a huge market for any business to grow, further following dynamics of population adds fuel to fire.
a) India is a growing market
b) Huge population & dynamics supporting age group (24-35)
c) High & growing Internet usage
d) Huge indifference in terms of gender, profession, Geo location, language
e) 80% of market is controlled by three major matrimonial website major
The matrimonial in Indian market offers huge opportunity for startups or existing marriage bureaus to grow online. Before moving towards setting up it is very important for business define goals for their business, We have see most business failing from their venture because of the lack of clarity of target audience & USP. So we highly recommend to brainstorm this with your business partners.
Define Goal
Two things one should look for when planning
a matrimonial website


a) Target Audience for your matrimonial website
What is the target audience you are going after. Most website owner try to be generic this is the place they fail competing with big companies like shaadi, jeevansathi. You need to understand that you are starting , you have low marketing funds to start with. You need focus a clearly defined audience. This will also help in SEO.
Define your audience, being a matrimonial website you define or target niche like professionals, Geo locations, Language specific, Religion-caste specific.

Example 1 : Targeting unmarried engineers (You can reach : via job sites,alumni directory)
Example 2 : Targeting Unmarried audience in Gujarat (You can reach : via local newspaper, SEO)
Example 3 : Targeting Unmarried Gujarati – Shah (You can reach : via  association, social associations, SEO)

Above are just example just be creative while you think about target. Do not limit your self.

b) Unique Selling Proposition (USP) for your marriage bureau

You need to define your USP of the website.It is very critical to define USP or reason you will
sell to audience that your site is nice. One should not try to compete with big players like shaadi or bharat matrimony. Find your USP that is great for the audience.

Example 1 : Biggest matrimonial website for Gujarati-Brahmins or similar.

Again just be creative in exploring the USP, do not limit your self . You need to out of boundaries to choose the best USP.


Set up profitable business venture :
 Online matrimonial website


Start a Matrimonial website,Don't wait for things to happen take action now. Plan a small investment to your business.

a) Get domain

Choose short and easy to remember domain name this would be brand name you need to establish.It costs
around Rs.300 to Rs. 3000. These days lot of options are available.

b) Get hosting

You can choose the hosting you like with enterprise-grade features , unlimited space & bandwidth is a must. It is heartland of your website. so investment should be made graciously.

c) Get matrimonial website

Makeyoursoftware.com is leading matrimonial script provider, take the demo of matrimonial website & take action to setup the website as soon as possible.

d) Get payment gateway

For payment gateway you need reliable provider with attractive rates. We prefer ccavenues & paypal to start with.

e) Setup legal entity : What kind of business registration is required

To be come registered entity you can form any business organization that you find comfortable. This being a legal stuff you need to consult practicing charted accountants or lawyers to setup business.

a) Sole Proprietor – here the requirement is just the pan card of proprietor to start.

b) Partnership – here two person can form the entity under partnership act. A deed is required to be signed by partners.

c) Pvt. Ltd. – here two person can form the entity under companies act. A MA & AA is required to be signed by directors.

d) Company (Ltd) – here seven persons can form the entity under companies act. A MA & AA is required to be signed by directors.

Other than above service tax registration is required once you cross the limit of . Local municipality registration is required, but this can change from location to location. Legal stuff is required preliminary to open bank account & formalize your business.

f) Marketing Strategy : 5 Ways to market marriage bureau website

a) Email / SMS marketing : This is one of the cost effective way to run your campaign you can reach 1000 people with a cost of Rs.1000. There are lot of ways to optimize the process. Professional setup is required to manage the campaign. 

b) SEO – You need to optimize the website as required. You need a team to run your SEO Campaign. You need to generate content as well.

c) Paid advertising – Pay-Per-Click is hot favorite way to reach the audience. Google, LinkedIn & Facebook are big players in the market. You need to go with professionals only. 

d) Gorilla marketing – Target the audience or  group of people only. This is cost effective way to target your market.

e) Local Promotion strategy – You can target via private newsletter or association or events or newspaper to reach your audience.
Check out this article on 5 Ways to earn money from matrimonial website , it gives few options you to work upon when working on your matrimonial project.
Once you have made a setup you need to look for three things in your business. Try to make business process friction less as much as possible. Concentrate on customer service & followups with free user towards paid user.This process will make you successful in long run. We believe you may have questions about your new matrimonial venture or plan. Please email us about details of your requirement. We would be glad to help you.