Are you Doctor, Dentist, Surgeon – Running a practice or a clinic
Have you checked your clinic website is it mobile ready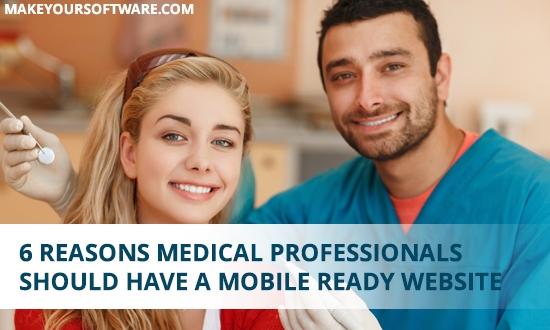 Most Medical Practice & Clinic's like Doctors, Dentist ignore the basic presence online when internet and mobile apps are spreading fast & most people are connected. Internet penetration is all time high. It is important to upgrade from traditional clinic approach to caring approach for your existing / new customers. Today major portion of population is on the smart phone seeking solutions & if your website is not mobile you could be miss a customer. Most patients expect their practitioners to have online visibility while they are reviewing the doctors.
Most Medical clinic / practice rely on Yelp or yellow pages listing, for which costs are growing every day & most important you are not building an asset for your practice. So ideal would be to have an online website with mobile readiness where a systematic approach to help patients contact for an appointment is there.
We at makeyoursoftware help clinic & practice to manage their website presence. We being a professional company focus on website that are result oriented website. Where as most ready made website template are good designs but are not marketing oriented website. We highly recommend to drop us email & talk to us about your requirement. We have medical practice clients in London, Ahmedabad, California, Scottsdale.
1) Online Visibility
A mobile ready website provides you visibility in front of patients who are looking online for reviews & easiness to approach. Seeing a link on yellow pages they move to your website and convert into a lead, else they remain on the yellow pages site scanning your competition or trying to find the one. Further your visibility remains under your control else one wrong review can effect your years of worthy practice. Do let it be take an action to start with initial mobile ready website presence. An ideal website would be where each page is planned strategically to convert for an appointment. Further an ideal website puts you in search engine as well. It does not ends here website should be connected with social platforms as well where ever possible based on target audience of yours.
2) Online Appointment Scheduling
It is must to have online appointment scheduling embedded on your website you start with simple form & once it grows third party apps or custom apps could be integrated. It is simple stuff most practitioners website lacks such basic feature. It is important proper placements call to action is mentioned on website to convert it well. Once you are confirmed with success of website. You can even talk to your friendly makeyoursoftware.com account manager to integrate with campaigns.
3) Options / Services you provide
Most people start explaining about services, that is fine, but first relate to pain your patient could be suffering. once you connect people tend to get comfortable and could easily convert to lead or appointment. Give them a reason to connect to you.
4) Testimonials
Testimonials are important to make users comfortable about your service. Some pictorials re-presentation of how you are practicing at hospital would make them glance of you and your medical center. Make sure to comply with the medical standards or complaints requirement.
5) Some More….
a) Easy Google Map Dir Directions
b) Social Presence on Facebook /Google Plus / LinkedIn or similar website
c) Paying Bills by Phone Apps
d) Maintain Blog – Search engine love content
e) Advertising online is cost effective
We understand you are busy practice or clinic, but you need to have proper marketing presence across various digital marketing channels. We at makeyoursoftware understand your requirement talking to us about requirement could open whole new way of looking at clients.
Check our website design packages , Get back to us for more information