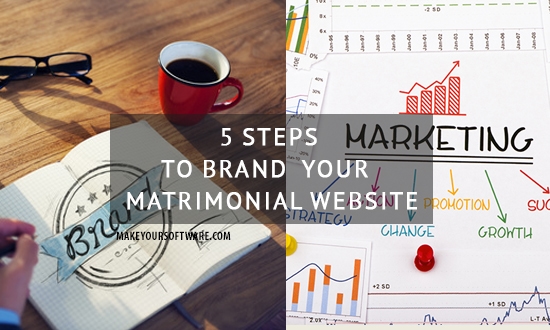 In our last few posts we have been talking about the how age old business of marriage is going under transformation. How revenue models are becoming more dynamic. How servicing is transforming & growing beyond geography boundaries.
With fast growing Industry, it is important to differentiate with the competitors Branding becomes important exercise to create unique identity so audience can find more trust and value to evaluate the product or service.
Our Matrimonial Script provides ways and means to brand yourself in easiest ways. Here are five simple steps you can carry out yourself or share the requirement with MakeYourSoftware Team .

Get Matrimonial Website Demo Instantly
Join our mailing list to receive the
latest news and updates about our 
matrimonial software.
100% Privacy Protected
Five small steps – follow each one of them
01.    Get yourself a good domain name & logo
You can update logo from the admin easily. Put in correct sizes in places. Stretch yourself a bit update Favico Icon & Email Logo as well. A very small step but must for the best results.
02.    Get yourself a slogan, profile, contact details, terms
Put in correct slogan, a small profile that gives identity of business from CMS area put in address from settings area of control panel of the script. Next is put in the terms followed by payment details if you are going to accept the payments.
03.    Get your corporate colors in place
Even if you are taking free layout you can easily modify the CSS with the colors, Use notepad editor to update CSS with your corporate colors. Make sure to keep backup of the basic files so in case if you give wrong tick, you can always reverse.
04.    Get couple of good pictures
Just as said images speaks about themselves, these days to get good pictures is easy just get in touch with royalty pictures provider with few bucks investment you could get good quality pictures. You can put from the admin.
05.    Get good banners
Banner from important part of matrimonial website, from home page to registration page to membership page to login page – a good well designed picture could give site complete transformation.
IF you already convinced about importance we at MakeYourSoftware provide complete Branding Program to change the complete design of your website. Our Custom design team can help you with your requirement – Get in touch with your requirement.
IF you are still looking for the MakeYourSoftware.com's Matrimonial Script, feel free to take advantage of current offerings.

Get Matrimonial Website Demo Instantly
Join our mailing list to receive the latest news
and updates about our matrimonial software.
100% Privacy Protected.