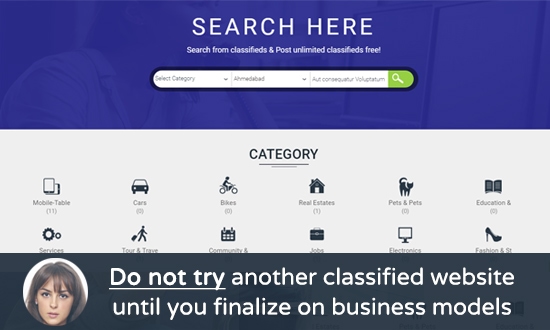 It was a regular business day for us , We had been busy with classified website clients. Here this evening a prospective client from Seattle approached us for the making the classified website. She was all set to go. Most of the stuff was finalized.One of the questions that came up was what kind of business model is required for the new classified website.
Here is an idea we came up to put the blog post so all users could benefit from the knowledge. Just to let you know we provide "classified script" for business.It is normal for us to provide business consulting for new individual business & startups approach us. During the course of time, we have identified certain successful business model for classified ad industry.
Membership Classified Website Model
This is very good extension if you already have customer list who is already associated you can upgrade your list for membership model where by you can charge your customers based on yearly or monthly format.This kind of business model works very well in specialized niches (eg: Job , real estate) where user has to post lot of ads through out the year. You has a business become viable model as revenue start coming in fast & regularly.
Fixed Classified Website Business Model
Fixed classified website business model is popular with most big classified website ad website like olx or cragislist or kiiji or gumtree.Here users are charge to specfic rate based on classified ad, further they are offered packages for classified enhancements of bumps.Here the revenue for business unstable, but there is an option for customer to post ad free or cost or pay for premium services. The service is very good where your customer bases to grow & certain customer enters your payment funnel.
Freemium or Free Ads Classified Business Model
The freemium model is yet another popular business model, users post free classified ads, this model grows fast & attract users because of its nature. The website earns from the banner advertising. There are several banner networks that can help to generate revenue.
What is best
Answer is challenging , no particular business model is clear winner each business model has bunch of winners & losers. It also depends upon on niche, maturity of the market, funding availability, geography & several others factors.
Our classified software is best in class & can be easily be moulded for winner classified website. For instant demo please get back to us.