Business or Startups – Whom to Hire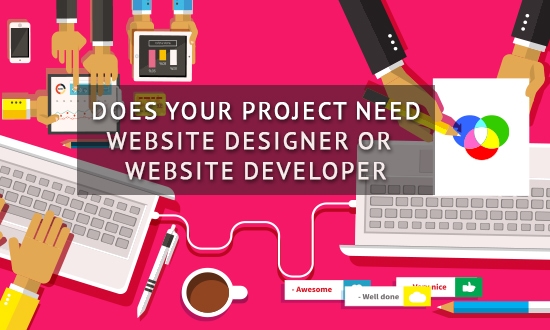 Business or startups start with an idea with rough sketch of what they require. Most projects being small & on tight budget at times are given to freelancer who is either expert designer or developer. Skill is chosen by a business or startup based personal assumption of the requirement & at times on requirements they are confused if they need to hire a web designer or web developer. For both of the professional's skills expertise are different. Unless a project is small expertise of the website designer & developer is required. Below we give a brief what each professional can do for your project.
Website Developer/Programmer
A website developer are programmers whose skills can be used for creating form to complex website applications. Ideal website developer will have to be ninja in various skills as he supposed to have knowledge of HTML, CSS, PHP, MYSQL, Javascript, Jquery. As modern age development makes knowledge of this skill compulsory. Knowledge less than above can take lot of working hours while development. Website developer may be well to arrange website to start with but he may not be capable of capturing visual aspect required for the website.
Website Designer
A website designer has few skills common that of website developer. That is the reason people mix up their professions. A designer is expert in using a good photo editor, HTML, CSS & upcoming libraries like bootstrap or similar. There are responsible for more of frontend of the website. We have worked with business that prefer to start with designer other set of people prefer to start with developers. So there is no 100% correct way to start with the project. One can start as per the personal preferences.
Lot of small startups hire a freelancer upgrade the person to project manager to manage team of website designer & developer. This may be good way of working for small project. But there are chances the project may inclined towards one particular thing rather than having equal balance of entire project.
What is the ideal approach – Hire a Team approach
A team approach is required for any website operations to be successful. A project should be balance of website designer & developer. This could be ideal way for the approach for any new or existing website. Most important is critical having a project manager who can take care of the requirement and coordinating the both the skill sets, a successful project needs a team.
MakeYourSoftware is ideal partner for your next website development project. We have team of website designer & developer. We have worked on more than 1500+ projects from simple to complex. For more information please send your project details.