Case Study based on product catalogue website design

Here is case study of Ahmedabad, India based manufacturer who had been growing. But growing has its own problem. If the proper decisions are not put into action, things can come back to hit you soon. Below is case study of manufacturer who took action to move ahead with success.
Growing business has growing problems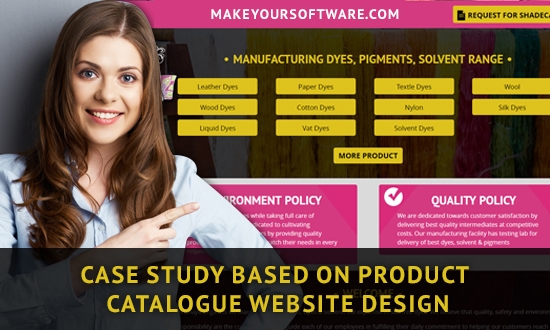 Most business when growing lack to strategize their business priorities. While it becomes important to upgrade existing marketing avenues, it becomes important to invest in new marketing avenues. Chemical manufacturer has grown the dyes business multifold. They have expanded their local facility in Naroda, Ahmedabad, India & exports to countries like China, USA, UK, Dubai, Africa, Italy, and Brazil have increased. They have added a new energized marketing team. Marketing team has too much to do in too short time , their priorities constantly change based on monthly goals. The small business at time fails too visualize overall growth plan.
Time to add new marketing channels
But at the time of approach for new website client has small website presence where website does not showcased all products. It was affecting business seriously. We talked to customer about this. Customer understood the need of the website revamp. When it comes to marketing online the b2b players like Indiamart, Alibaba where the names that has listing. We took the problem with the client that need to have product catalogue website re-designing. And dependence on two regional b2b marketplace was not good idea as these players distribute or share the leads with the other players in the industry. Further they were not enhancing their own asset & that was not good policy for any business with the long term commitment.
Product catalog website
We at makeyoursoftware believe small & simple solutions are game changer for any business. We came up with simple solution to start with the new website designing. A simple, clean product catalogue website became the game changer as products got categorized. Few more tweaks helps the entire website being indexed in the google. New marketing avenue opened for the customer, giving marketing team a whole new series of leads. Customer proudly claimed the recovery of investment with the first week of launch. We have further provider with our other business solutions for the website.
Contact for new website designing, we have great business website package
Makeyoursoftware helps business that makes fast decisions towards success may it be for new product web design packages or custom software application. We are based in Ahmedabad, Gujarat, India and we provide complete website design services to business . Business grows faster for business who invest in business in timely manner. So take a decision to invest in your future with us. Contact us now for your new website.