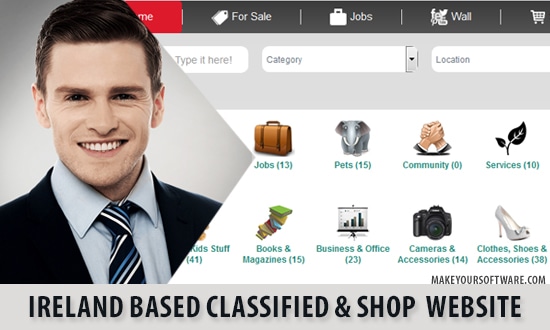 It started with a vision to help business in Ireland, Dublin. Client wanted to start with Dublin & then grow into other parts of Ireland.The site plans to capture small, medium size traders, service providers, dealers, agents who would like to capitalize on internet ecommerce boom happening in Ireland.Plan was to star a classified website with focus on ability to sell. Ireland is growing country in Europe & due to its business friendly policy has attracted business & startups from the world over. Ireland has some growing competesion in online classified marketplace other popular site include donedeal.ie, gumtree.ie, vivasteet.ie & locanto.ie.
Process started to come up with classified website design, a wireframe was created based on requirement. Then designers came up with the unique classified website design, before a final mockup could be agreed upon couple of modification was required. Web design came up awesome & client liked as well.  Next came the selection of programming language. PHP5+ & MySQL became ideal choice to move ahead. Site came up in stipulated time, some testing was carried, some new features where introduced to make it more tradable features for small business.
Whole list of categories were introduced. Then it was extended to shop where shop owners can sell their products, further the money would be credited to their paypal account. So classified cum Shop website was introduced. Being an Ireland internet savvy market the site has huge market. Site seems useful for small & medium business who would like to sell their product & services. Site is to benefit small time dealers.Site was structured in SEO friendly page where by location, category & shop profile page were introduced.
We at MakeYourSoftware.com took the challenge hand in hand with the client's team. After initial design pages client approved the flow & further an estimated time frame the project was build upon.Certain features where introduced in mid of demo preview and some features where extended after completion of the project.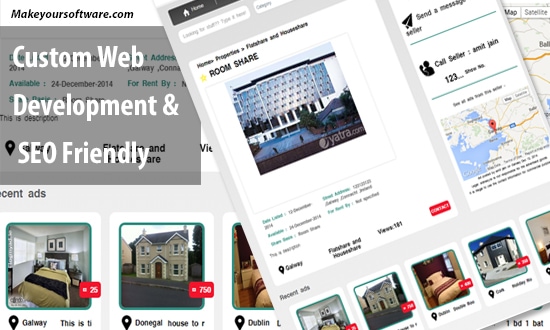 Home page featured include popular, random, just listed
Home page has search engine with options for location & category
Several categories and sub categories
Seo friendly location pages
Seperate shop page with various options
Seo friendly display page
Seo friendly shop owners page
Ability with custom checkout option & inventory sold out option
Special enhancement options for paid users
Special shop packages for the business to multiple ads
Multiple ads upload option
Ability to put banner ads
Start your own classified website
The Classified script from makeyoursoftware.com is ideal way to get into online classified business. Classified is age old business that is growing online in various categories & location. Take a call now to start your business.                 To start classified website check our features of our script.