Start your own Matrimony Website with best features. With 5+ years of experience with several clients from Bihar, Ahmedabad, Hyderabad, Jhansi, Hyderabad, Kolkata, Rajkot, Jodhpur, Amritsar, Bangalore, Tamilnadu, Kerala & countries like Pakistan, Bangladesh, Holland, US, UK.
5 Reason – Why you should go with us
5 years of constant development
Several 100+ clients
Complete Customization
Support & Training
Template Based Work
Matrimony in India and Indian sub continent has been popular with one available estimate in India it self it is worth 32 Billion Dollar of Business. Further fueled by growing population, growing internet services & wide religion sects makes a field for various matrimonial business. All this combined makes the matrimonial one of the most lucrative business online.

Get Matrimonial Website Demo Instantly
Join our mailing list to receive the
latest news and updates about our 
matrimonial software.
100% Privacy Protected
Our Matrimonial Script does not require any technical knowledge, It is easy to customize from the web based user friendly control panel. Our script has been created in PHP, HTML, Jquery, Ajax & MySQL.
5 Reason – What you can customize from control panel
To ensure high degree of security we encrypt the source code so the hackers could not take an un due advantage. As open source being open is more open to threats.Further we do ensure 95% of code is available for basic or minor customization.
Our script can be installed in 5 minutes. It is five step method that has been documented & is available with the script. Further we also provide Free Service to user who would like to get Script installed professionally with our expert. They normally take 1-2 day as per
the work load in technical support department.
Our matrimonial script has several features, but major features that we would like to brag are following. Following are the important features from our script
1. Detailed Profile
Our script has detailed profile of 9 steps which covers basic, personal, social, astro, hobbies occupation, education & several more area. The profile drills into the personal information of the user.Further ability to upload one or more pictures make it further interesting. All pictures automatically create thumbnail and embeds the watermark.
2. Different Profile as per the religion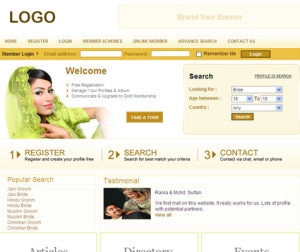 Our script provide different profile as per the religion. For example Muslim candidate registering on the profile would get a different profile fields vis-a-vis a Christian registering on the same matrimonial service.
3. Multiple Ways To Contact
Our script offers multiple ways of contacting the user via express interest, winks, private message. some are informal and some are more formal in nature. Further live contact details are revealed to paid members only. This way safety of user data is maintained.
4. Partner Match
Our script provides partner match which is easy and fast. In back end a more complex algo process the huge amount of emails even on the shared hosting. Making it most cost effective platform on various parameters.
5. Packages & Payment Gateways
Our script can be be configured to handle multiple packages & multiple payment gateways (ccavenues, paypal, authorize, ebs). We understand each business has a different requirement .
6. Various styles of search
Our script has various style search options , this feature helps end-users to find the best match, further options of putting down the favorites and profile id helps to sort the meaningful match.
7. Powerful User Manager for Administrators
Our script has powerful user manager that takes care of all basic details at one single place. Making admin easy to manage & maintain the script.
8. Multiple options for earning revenues
Our script provides multiple options to earn revenues options include matrimonial packages, banners, wedding directory, Wedding event listings & Wedding PR Activity area.
9. Bulk Profile Upload
Our script also provides bulk profile handling from the admin, making this ideal for marriage bureaus involved in offline collection of matrimonial profiles.
10. Powerful Ad-on : Franchisee
Our script also provides franchisee add-on making it most likely script that supports growth of marriage bureaus. The module provides ability to calculate commissions & gives ability to provide custom services.
We are most likely going for price rise of the script, before that we wanted to inform all the aspiring users to start matrimonial script – so they do not receive a uninformed shock. But before that we have a special deal
To start a matrimonial website contact us


Get Matrimonial Website Demo Instantly
Join our mailing list to receive the latest news
and updates about our matrimonial software.
100% Privacy Protected.