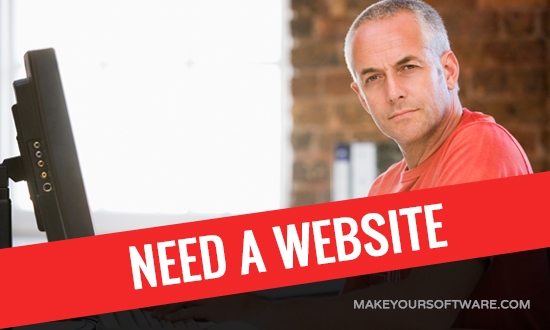 Most business while they approach us are still trying to figure out if they need a website.
A business from SanDiego approached us asking if they need a website they are evaluating:
eek! 2017 – Still evaluating, Well it good you should always ask
WHY?
As a business you need to always ask this question frequently:
Most small business juggle between their daily business requirements & urgent stuff. So most business put the most important needed marketing need "a website" to last priority.
The common question that gets asked in business is, 'why?' That's a good question,
but an equally valid question is, 'why not?'
Jeff Bezos (Amazon Founder)
A Website these days is no longer luxury item but these days a website means new business, more satisfied customers. Today with this post we try to help business who are self-evaluating their business needs.
It is 2017 People are using less yellow pages & more Internet to reach the business. Mobile searches have risen to all time high with trillion plus searches happening online. So there are lot of customer looking for the business online. It is more than ever…
Some business think when it comes to identity Facebook Page is enough, There you are already dominated by a powerful brand Facebook, It means you can easily be lost out in the crowd. So before you start promoting anywhere, get yourself an identity. Start with having the domain name, Look at this post we wrote 10 tips for a good domain name. Once you have great domain next thing is evaluating your requirement. Here are some points that can help reach & achieve your business goals
Reason 1# – Website Provides Permanent Identity
Website is your identity online. It is a place your customer can reach any time. It can showcase yourself, no matter how you have changed over the time. Your identity online gives trust to your customers. When you design, update, modify your website it enhances your identity:
When you have the strong identity – your stakeholders (vendors, employees, customers, contractors) trust you.
Reason 2# – Website Builds Your Brand & Exposes The Brand
As you create an identity. You also create brand for your business. Making it different & more trustworthy.
Website speaks for the business itself. If the website agency can put in the desired character of brand via colors, UI, Content & Call to action.
A properly crafted website can communicate to users more effectively, this can affect your business volume directly.
Reason 3# – Website is 24/7
Website being online it is 24/7:
Your customers can reach your business any time, they can see your product and services. They can further explore as well. More the descriptive you are more it will benefit you.
In short website is at work even when you are not.
Reason 4# – Reach
Website has the ability to reach places & to the people whom you can not think of reaching otherwise. Most important these customers can reach you in their comfort. With reach increasing you can even sell products to customers online.
Reason 5# – Sell Online
With audience growing bigger selling online is a great extension for existing business. This is dream come true for most business with low investments you can have a website that sell online & takes payments. Company like amazon.com sell billion dollars+ worth of goods all over the world.
Here are another set of reason you can do with your website
Have a online brochure
save your money & time
Get customer feedback
Sell online
Get Donations
Educate customers
Support your customers
Marketing online
With reach you can have section on website to gather feedback, booked an appointment, get donations, provide more effective support, educate customers, ask for testimonial or referral. You just need to be creative with your reach so you can serve prospects & existing customer equally in better way.
You still need reasons if you need a website
Well with the above list gives you enough reasons to have a website for yourself or your business. Just get in touch with us we can help you with website packages & custom business need of yours.
Contact us for your Business Website .
Once you ready to make your website, next thing is required is to choose Website Hosting, Website Platform (eg: WordPress)& Website Budget you would like to work with. We recommend to talk to professional vendors like ours, so that you have technical expertise & direct help in choosing the platform. Vendor like ours has 15+ years of experience in helping business to create a website.