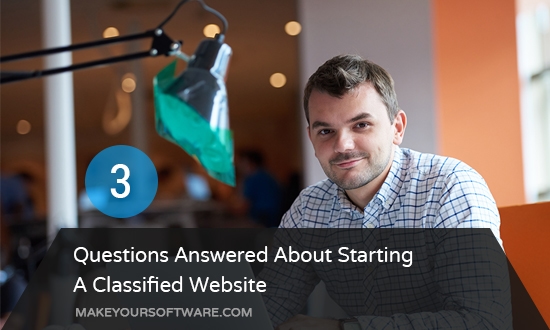 Last time we posted about the Classified business models based on that post we received a question from few prospective customer. John from Dallas asked three major questions, as he was planning to start a classified website. He was already ready to start with the classified website.
He already purchased a domain based on our checklist & was quiet pumped about everything. He posted us a three most frank question. Most of the business/startup's would have while starting the website or building the portal.
Just a brief & disclaimer we at MakeYourSoftware provide PHP script based online classified software. The software has been built with capability to handle unlimited categories, ads, packages, enhancements, banners & several other features. For complete feature list of ad software visit the page.
a) Is Classified ad market online going to survive
Every year worldwide the audience reach is expanding online with Mobile & Internet reaching the wide audience, the growth has been multifolds. Classified has world's fastest growing markets that is what attract world biggest companies like ebay, craigslist, Gumtree, OLX, Rocket Internet, WOC & Several others.
Further business want to always reach their audience fast & there must be some place where people can post goods or unused goods online. Classified becomes a broker between the buyers and sellers. This is classical marketplace which has been around since inception of business. So if business are going to be online, classified marketplaces are also going to be there.
b) Let me have craigslist clone or backpage clone exactly
There are lot of readymade clones available in the market. Targeting as craigslist clone, Backpage clone, Gumtree clone. It is good idea to start pre-made website, but starting with the clone is a bad idea. Pre-made website is the infrastructure that saves you time & money on which you can innovate and build upon. But clone gives a wrong perception to user about the original website lacks the innovation culture, also end users also perceives same experience from the old website. So ideal way is to have pre made website from vendor like ours and then innovate on it via designing new classified website or template or custom building some features to the market requirement. This makes you stands out you in a market & your chance of success increases.
c) Classified website builder or WordPress CMS what should I prefer
WordPress is very good platform even our website makeyoursoftware uses it. It is a wonderful CMS but it is not the classified website builder.Wordpress is good at some thing but it is not good at building classified website, as it has not been made to do so. So even with best plugins its does not work out. When you are planning the business you need to have robust platform that is primary built to serve online Classified ad Website.
Once you are ready with domain & hosting – the next thing you need to look is classified software for starting a classified website.Our classified ad website software is available for real estate property, automobile or car marketplace & Several other.
You can know more about Classified Advertising on Wikipedia.